BLUEMED CSA announces results of Call for Strategic Start-up Actions
8 November 2018
The BLUEMED CSA is pleased to announce that the evaluation of the 27 proposals received in the framework of its Call for Strategic Start-up Actions on Blue Growth in the Mediterranean was completed on 24th October 2018.
The Call was launched on 15th May and applications were accepted until 15th July. Applicants were asked to form a partnership of at least four entities – three from EU Member States and one from a non-EU country – to conduct three multi-disciplinary workshops/ meetings leading up to a  feasibility or foresight study or a demonstration or pilot project. Another criterion in the Terms of Reference was the potential integration in the BLUEMED Strategic Research and Innovation Agenda (SRIA).
Please click here for the results…
The four Start-up Actions funded by BLUEMED
The four Start-up Actions that will be funded under this Call will be:
SEALINES: Mediterranean Safety Network, Coordinated by Ilaria Antoncecchi & Team (Ministry of Economic Development/Bicocca University of Milan, Italy); Co-Lead Marco Pacini (Rossetti Marino SpA, Italy), with partners from Egypt, Greece, Tunisia, Italy, Croatia and Cyprus.
ECOMEDPORT: Feasibility study of an ecosystem-oriented plant for sediments management in Mediterranean ports and marinas, Coordinated by Cesare Saccarini & Team (University of Bologna, Italy); Co-Lead Giovanni Preda (Trevi SpA, Italy), with partners from Tunisia, Lebanon and Greece.
LabMAF: Developing a Labelling Scheme for Mediterranean Small-scale and Artisanal Fish Products, Coordinated by Jerneja Penca (Euro-Mediterranean University EMUNI, Slovenia); Co-Lead Alicia Said (Malta College for Arts, Science and Technology MCAST, Malta), with partners from the UK, Spain, Italy, Portugal, Lebanon and France. Click here for more info.
BlueBoatsMed: Foresight on cruise and recreational boating, their potential for transition towards a blue economy in the Mediterranean and associated environmental challenges, Coordinated by Lina Tode (Plan Bleu, France), Co-Lead Alberto Cappato (Porto Antico di Genova, Italy), with partners from Croatia, Spain, Tunisia and France.
This being a bottom-up Call, proposals spanned a wide range of topics, from fisheries and tourism to operational oceanography and marine surveillance as shown below. We were also pleased to receive applications from international, multi-disciplinary teams, bringing together members of the academia, private sector, local and regional authorities as well as NGOs.
BLUEMED's Evaluation Management Group, made up of members from seven BLUEMED partner countries, carried out a first eligibility check of the proposals and found four not to be in line with the Terms of Reference of the Call. The remaining 23 proposals were each evaluated by two independent experts, who then met remotely to reach a compromise score. Based on this, a ranking was established, that was finally approved by the BLUEMED Steering Committee.
The BLUEMED CSA would like to congratulate the four winning partnerships and looks forward to working with them on their innovative Start-up Actions!
We would also like to thank all the other applicants for their interest in blue growth in general and the BLUEMED Initiative specifically. We wish you luck with your projects and hope to have the opportunity to work with you in the near future.
The following list contains all the proposals and their final standing…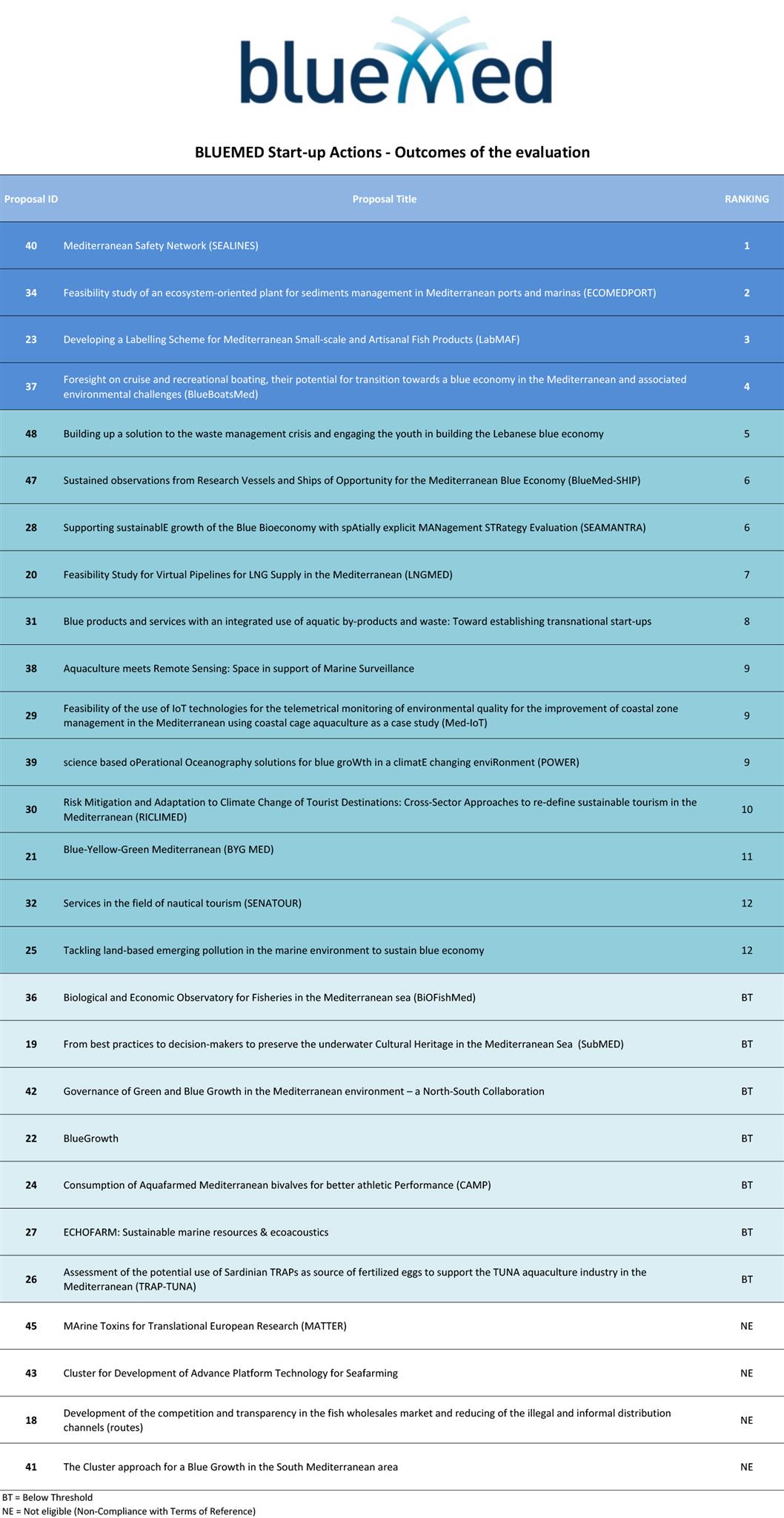 Proposal ID number
Proposal Title
RANKING
40
Mediterranean Safety Network (SEALINES)
1
34
Feasibility study of an ecosystem-oriented plant for sediments management in Mediterranean ports and marinas (ECOMEDPORT)
2
23
Developing a Labelling Scheme for Mediterranean Small-scale and Artisanal Fish Products (LabMAF)
3
37
Foresight on cruise and recreational boating, their potential for transition towards a blue economy in the Mediterranean and associated environmental challenges (BlueBoatsMed)
4
48
Building up a solution to the waste management crisis and engaging the youth in building the Lebanese blue economy
5
47
Sustained observations from Research Vessels and Ships of Opportunity for the Mediterranean Blue Economy (BlueMed-SHIP)
6
28
Supporting sustainablE growth of the Blue Bioeconomy with spAtially explicit MANagement STRategy Evaluation (SEAMANTRA)
6
20
Feasibility Study for Virtual Pipelines for LNG Supply in the Mediterranean (LNGMED)
7
31
Blue products and services with an integrated use of aquatic by-products and waste: Toward establishing transnational start-ups
8
38
Aquaculture meets Remote Sensing: Space in support of Marine Surveillance
9
29
Feasibility of the use of IoT technologies for the telemetrical monitoring of environmental quality for the improvement of coastal zone management in the Mediterranean using coastal cage aquaculture as a case study (Med-IoT)
9
39
science based oPerational Oceanography solutions for blue groWth in a climatE changing enviRonment (POWER)
9
30
Risk Mitigation and Adaptation to Climate Change of Tourist Destinations: Cross-Sector Approaches to re-define sustainable tourism in the Mediterranean (RICLIMED)
10
21
Blue-Yellow-Green Mediterranean (BYG MED)
11
32
Services in the field of nautical tourism (SENATOUR)
12
25
Tackling land-based emerging pollution in the marine environment to sustain blue economy
12
36
Biological and Economic Observatory for Fisheries in the Mediterranean sea (BiOFishMed)
BT
19
From best practices to decision-makers to preserve
the underwater Cultural Heritage in the Mediterranean Sea (SubMED)
BT
42
Governance of Green and Blue Growth in the Mediterranean environment – a North-South Collaboration
BT
22
BlueGrowth
BT
24
Consumption of Aquafarmed Mediterranean bivalves for better athletic Performance (CAMP)
BT
27
ECHOFARM: Sustainable marine resources & ecoacoustics
BT
26
Assessment of the potential use of Sardinian TRAPs as source of fertilized eggs to support the TUNA aquaculture industry in the Mediterranean (TRAP-TUNA)
BT
45
MArine Toxins for Translational European Research (MATTER)
NE
43
Cluster for Development of Advance Platform Technology for Seafarming
NE
18
Development of the competition and transparency in the fish wholesales market and reducing of the illegal and informal distribution channels (routes)
NE
41
The Cluster approach for a Blue Growth in the South Mediterranean area
NE
 
 
 
BT = Below Threshold
 
NE = Not eligible (Non-Compliance with Terms of Reference)